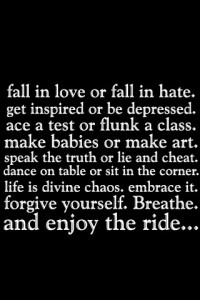 Whew… its time for a breather.  JB and I drove to Point Reyes yesterday to try a new trail for the last of my long training runs.  We got a late start because I slept in and then we made french toast and watched an episode of 24 that we had on DVD.  I mean isn't that what Sunday's are for.. that and some good running, of course.  Finally we got out the door with full Nathan hydration packs, lots of Hammer gel, Cliff shot blocks and Sharkies.  As we drove through the Marin Headlands near Interstate 1, we could see the telltale sign that summer is coming to an end as the parking lot of Muir Woods was overflowing.  The minivans and SUV's full of people  were there waiting to get a glimpse of the glorious Redwood trees that lie deep in the quiet of those shadows. Only a few weekends in August remain!  JB and I were seeking more refuge and quiet and so we kept on driving in the mad traffic.  Finally after almost 2 hours in the car, we put on the GPS, tightened our laces on the shoes and started up the Palomarin trail near Point Reyes Bird Observatory.   The views were incredible and the weather was pretty warm.  We planned on 6 hours and 30 miles for the day with an out and back on the Glen Trail, the Coast Trail and the Backroad trail.  The first 5 miles went by in a flash- the legs felt good, the lungs breathing in rythym, and my best running pal in the whole world by my side made me want for nothing more.  Soon we ran into Ultrarunning veteran Chuck Wilson who informed us that he had just saw a bobcat not far from where we were headed.  I was hoping that little guy would still be around when we got up the trail.  No such luck… But Chuck did tell us to go run on the Sky Trail up to Baldy point and we headed that way after consulting the map.
As we came to the intersection where Baldy began in a huge climb, a couple of older guys sitting by the side of the trail,  muttered  to us" You'll be sorry!" JB and I glanced at each other and smiled and then replied- "I don't think so…" and took off running straight up the hill, laughing the whole way.  The old guys watched us and the perplexed look on their faces was priceless.  Not a regret in sight as the trail steepened and we downshifted into climbing mode.  What an awesome trail, an awesome view.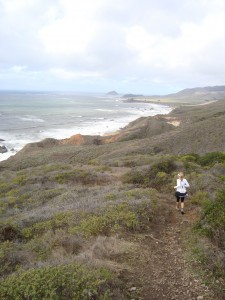 We pushed it hard for the next 5 miles to the turnaround.  We found the water spicket, refilled our packs and bottles and started back.  We were making good time and were on track for our goal. The next 14 or so miles peeled away pretty quickly and JB and I found ourselves on the edge of the land with blue ocean and a sunset on the horizon.  We paused and took in the views of the coastline and I took the time to be grateful for my family, my health and the ability of my legs and lungs to let me see so many places in nature I otherwise would not.
Cascade Crest 100 is 12 days away.  Lots of rest, mental re-focusing and a game plan is what I will be working on.  Of course life goes on, so work and responsibilities don't go away. But, I know that's what makes life so interesting.