Yes, its been quite a while since the last blog post. But I have a legitimate excuse.. or a few at least. Cliff notes version of the last 6 months: Pregnant and running still, very pregnant and getting compelling looks to stop running, overdue almost 2 weeks and shuffling, 30 hours of labor during which I walked probably 6 miles and then finally, Eva LaRue made her world debut on 9/23/2010.  Then we planned to move to Reno to be near family.
Seeing Eva's face for the first time was the most extraordinary moment of mine and JB's life.  Giving birth made running 100 miles seem comparatively simple and easy.  But what's funny, is now that I am training again for my next 100, running long distance seems very hard.  I get out there and wonder what I am doing and how to do it. I just put one foot in front of the other and try to find the joy that I know I get from the run.  But my confidence is zero. I reminisce about being in shape and cruising through the trails.  And so here we are- one crazy circle of pain.  Ha.  Half in part because I am only sleeping about 2-4 hours each night. For the last 4 months.  Eva is apparently an insomniac like her momma… not good for anyone in the house.   We are all cranky and sleep deprived, yet blissed out on the fact that we love Eva so much.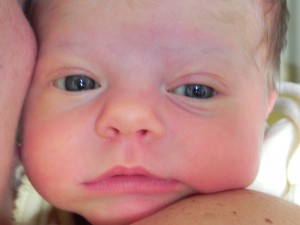 Three days after Eva was born I walked 4 miles in Golden Gate park. I felt like my bladder was going to fall out on the pavement. Sorry for the gruesome details. But its true. Yikes.  So I went slow and added a little distance at a time and did my first real run 3 weeks post partum, much to my physician's horror.  My first 10miler was at 6 weeks post partum. It has been slow and upredictable since then.  I am still running low mileage-if I get 40 miles a week, its been a good week.  I have races on the calendar and so the question is now, how can I manage to ramp up my training so as to not totally suck this year of running.  That will be the prevailing question.  That and how can I manage to work a full time job, keep Eva fed (breastfeeding and running with these ample boobs is another post altogether) and get her laundry done and oh, try not to eat freaking fast food for dinner.
How do the ultrarunning mom's do it? Please send suggestions…and maybe some coffee.
Either way, glad to be back out there, even if its slow and a bit tedious for now.  Next up is my 21 mile run in Auburn this weekend to prepare for Way too Cool 50 k in about a month.