On the late afternoon of Thursday October, 1st my children and I flew to Las Vegas to meet JB. He was saving us 8 hours of driving as he left that morning from Reno with our camper trailer to pick us up to begin our super epic camping trip. We planned on running in Flagstaff, the Grand Canyon, camping with Roch Horton and friends near the Tetons and then finishing off in Yellowstone for a total of 2 weeks. We were pretty stoked to set off into a simple way of life, pursuing some of the finest running routes and family camping a trip could offer.
We arrived late around 1 am on Friday the 2nd and got to the Flagstaff KOA where they gave us campsite number 91. I immediately thought of my brother as that was his college football jersey number. I thought to myself- well that should be a good sign for the Flagstaff race on Saturday.
After about one hour of sleep, I was holding my baby boy by my side when I could hear JB talking on the phone at a frantic and half asleep voice. He kept repeating the phrases "No, No, No, No, What? What happened, Oh My God." He was crying and as I sat up in bed, he could barely get the words out, "Bub is gone, Bub died." I am not sure what happened at that point. I barely remember him handing me the phone and my mom screaming in my ear. Something about his heart stopped in his sleep. I could not even process what she was telling me. My stomach fell to the floor and everything I knew was changed forever.
That early morning in Flagstaff, I could and (even still now) can barely understand what happened. Our first reaction was to get home, to be with my parents and sister. Yes, I lost a brother, but even more so, my parents lost a son. For anyone that is a parent out there, that is just unthinkable. My heart hurt for myself, but it hurt more for them.
JB and I began to make arrangements to get home, but JB was toast after 13 hours of driving and now not a minute of sleep. We had no choice to but to stay at least one more night. Later that day, I began thinking more and more. Bub (real name, Michael, but no one ever called him that) was 33 when he died. The Flagstaff Sky Race was 33 miles (which is odd in itself, as most races aren't typically set to be that distance). I felt like I needed to run, to search, to find an answer and maybe even better, to find a place to speak to my brother. I didn't eat much that day and I am not sure if I ate anything the morning before the race, but hell with it, I was going to try. I needed to try.
I set off that morning, my heart in my stomach, not really caring about the race itself. It was really cold and my hands went numb quickly and at times I wished my brain would go numb as well. But there was some comfort in running near other humans, breathing, talking, moving together. I decided to set forth that morning with the intention of running each mile and reflecting on my brother's life for that mile. My brother had been one of my best buddies. In early life, we were pretty much a team of mud throwing, mischief seeking, covering each other's back kind of sibling duo. My mom told me I dropped him on his head when he was only 1. I'm sure I tried to mother him his whole life. When the climb really began around mile 3, I thought of him, a sweet little boy running around with his Easter Egg basket and me helping him collect his eggs. Around mile 7 I realized that was the year he probably collected Garbage pail cards and the first year he played Pop Warner football. Since, the run was a US Skyrace and boasted over 10k of vertical in 33 miles, there wasn't much to do but go up. I think around the top of Mt. Elden, where the light of Flagstaff was a glory of pink and pines and views of God's great country, is where I realized my legs were already giving out. But at mile 12 or my brother's 12th year of life, I was just getting to the good stuff. The times when he snuck in a huge snake into his room in a backpack thinking my mom wouldn't notice. Or when he shot his own window with a BB gun and claimed someone else must have done it. I had too many memories to try to get through and I couldn't stop running.
Even though we were on a downhill around mile 14, it took everything to keep a running pace. I just focused on each step and just let gravity carry me down. Another memory from his life just enveloped me on the trail and then I found myself laughing. I brought my brother with me to high school Senior parties when he was just a freshman so he couldn't tattle on me to my parents and by the end of the year, he was best friends with my then boyfriend, my now hubby of 13 years, JB. JB gave him a bottle cap that year as a Senior and my brother kept it and gave it to JB when he toasted us during our Wedding.
I saw JB at mile 17 and I told him I wasn't sure if I could continue. He hurried me out of the aid station and I realized these were the years of my brother's best moments in life. He was such a great athlete. He led his high school (also my alma mater) to two State Championships in both football and basketball. As defensive end, he made the game winning sack for the Football AAA State title in 1999. In fact, it was the subject of JB's first full documentary, "It's All About Us." He was recruited nationwide to Division 1 College schools and in the end he chose University of Nevada Reno because he was truly a home body and loved his hometown.
Sometime around mile 20 I was just tired of all the walking I was doing. When Bub was 20, his college football career ended in injury. He hated that he couldn't play anymore, but he still loved the game. I always took a huge piece of inspiration from him when I toed the line in a race. Why shouldn't today be any different? I had walked and cried and walked some more. I finally took a gel and actually drank some gatorade and tried to run a little bit more that I had. I needed to find the fight in me.
I saw JB at mile 27 where the 4000 ft climb stood in front of me. I had no idea where I was in the field. I could have cared less. But JB and my sweet Eva and Asher were there waiting for me. Smiling at me, encouraging me on. Eva said, "But mommy you are in 3rd place and JB chimed in with, and she's only a few minutes ahead." There it was again- the number 3. I gave my family kisses and found some strength in seeing them there. I knew I had to keep going. I thought about how my brother came to my first 100 mile finish when I was 28 and he was about 25. He saw me suffer and he was there to make sure I was okay. I always wanted him to come to a race where he could watch me have a great day. I realized that would never happen.
But then I felt my brother. I saw his huge smile and I heard him tell me, "J, I am okay." In the same breath, I could hear him say as he often did, "You are nuts, sister. You don't have to run this far you know." And then I put whatever I had left into my heart and into my legs and I tried to go.
Up and up we went. Straight up a ski mountain. It was a hands on knees effort and I had caught 2nd place. But as we ran down to what looked to be the finish line in a speed of reckless abandon, the aid station workers pointed us back up the hill for yet another 1500 foot climb. My physical body was pretty done at this point and I just hung on and took lots of breaks to turn around and look over the valley. I thought of Bub in those miles. His years of struggle during his life of his late twenties. He fought so hard to find his identity and his purpose. I wished I had been there for him more. I kept climbing and finally crested the summit at 11,500 feet. I took some water and began to cry. When I found myself alone with gravity pulling me down the mountain, is when it hit me. Only 1.8 more miles left to run. Only 1.8 years of my brother's life left. The tears, the screaming to the heaven was something I couldn't help. This just couldn't be happening.
As I neared the finish, I thought last year's Christmas together. My dad dressed up as Santa Claus to surprise my kids and in the end, it was my brother who was in tears. He was overwhelmed by the moment, the family, the closeness we all had. I never thought it would be his last Christmas.
And in some strange way, I felt this huge overwhelming release as I saw JB's face, my kids smiles as I crossed the finish. And my brother was smiling in his own way at me. My 3rd place finish, a wink from him from afar.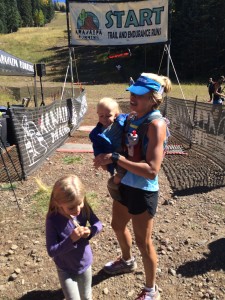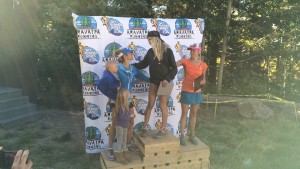 There is a huge hole in my heart. I don't quite know what and how life is supposed to look like except that each day is such a gift. Hug your brother, your sister, your kids, your spouse. Go look at that sunset, be grateful for your friends.
They say pain is God's megaphone. Well I am certainly listening. I hope to respond in grace. Love you brother, rest in God's light.
Michael Edward Yenick 2/1/82-10/2/15
Please visit www.bubhugs.org as we begin a foundation dedicated to helping Athletes find Purpose in Life without turning to drugs or alcohol.
Thanks to JB Benna, Eva Benna, Asher Benna, Jason Koop, my Hoka One One family, my amazing friends near and far. You all give me hope.
Thank you to Victor Ballesteros for the very kind interview following the race- you can see that here.